A project born in Tuscany and founded by a pool of  technicians with longstanding experience in the world of disability, covering both manual and electronic wheelchairs, as well as in the world of automotive design and motor racing (cars and motorbikes).
Our wheelchair is designed to meet the needs of high reactivity and performance of a sport like PowerWheelChair hockey while also meeting the needs of disabled athletes and their specific disabilities. Therefore, the seat has a range of adjustment settings and is designed to accommodate any special posture systems including headrests and other specific components. The static structural elements on the wheelchair, such as height, inclination and anteroposterior centring, are also easily adjustable. From a dynamic perspective, the steel frame was designed to centre weight as much as possible. In terms of the gear drive engines, as well as allowing their positioning right in the centre of the wheelchair's lateral rotation axis, they also guarantee higher efficiency than traditional engine types with worm gear drive. Wheels with 10" rims and an 8° camber angle feature a soft compound tyre with optimal ground surface contact to ensure a superior grip on the smooth surface of playing fields – the surface in contact with the ground will always be 100% rubber without any notch.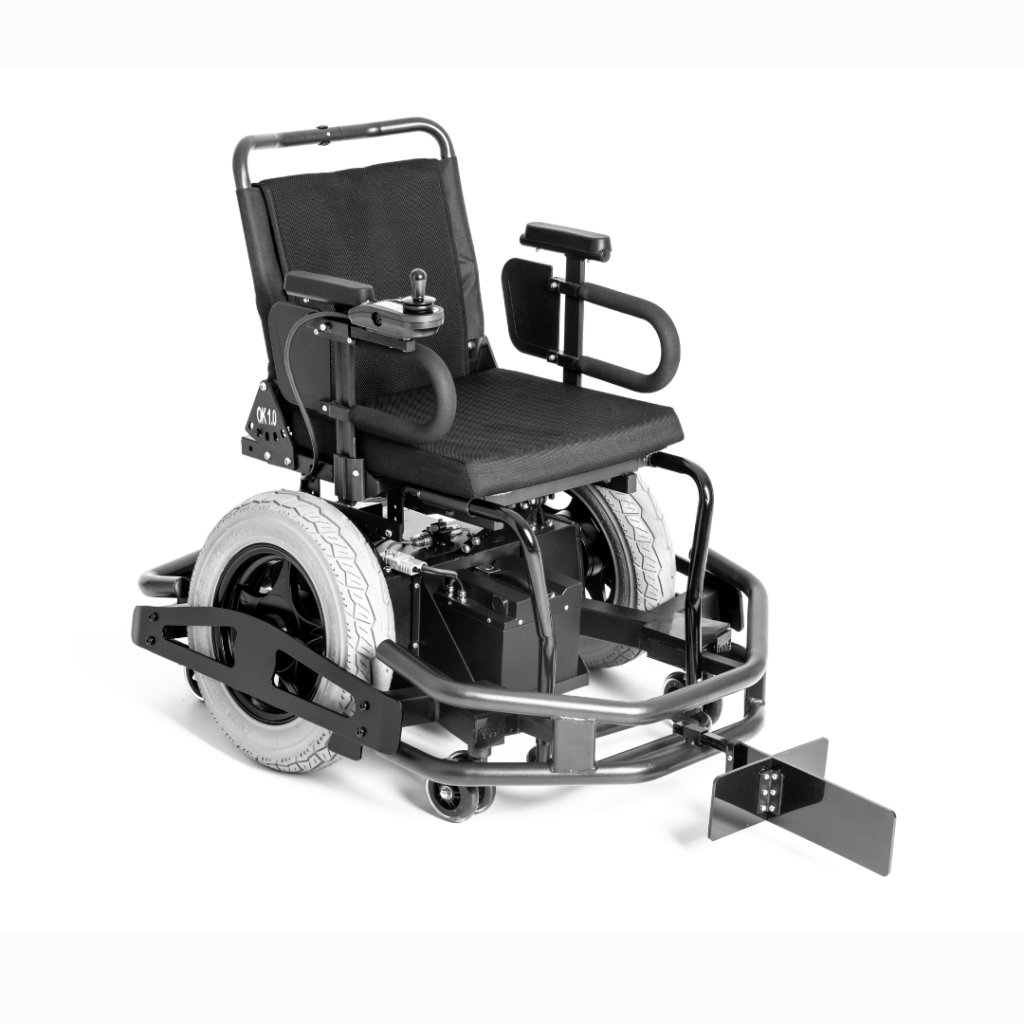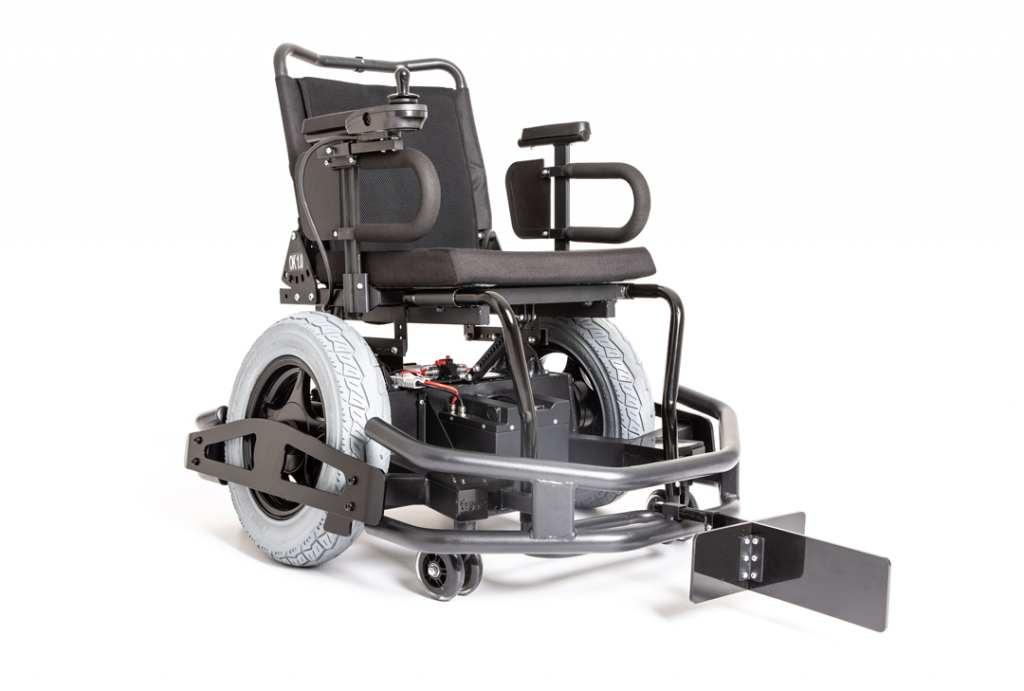 Liquid cooling has been introduced for the electronic control unit and forced air for engines to avoid the power drops that sometimes occur towards the end of a race, whereby the ECUs and engines overheat  and begin to stop responding consistently to cold programming. This guarantees the correct heat disposal management and prevents overheating.
The electromagnetic brakes can be electrically disconnected and there is a safety device with remote control (radio control) which, in case of emergency, locks the wheelchair on the command of an external person (coach, family member, etc.). The control electronics, with 120A control unit, is the LINX by Dynamic Controls. However, when placing an order, the wheelchair can be configured with any device from the two leading companies in wheelchair controls, Dynamic Controls and Curtiss & Wright.
The battery is a powerful 24V 40Ah lithium battery and when charging 7Ah batteries in series guarantees safe and fast recharging. For those requiring even faster recharging, an enhanced 15Ah battery charger is available as an option. The search for the best value for money in components makes OK 1.0 an economical, low-maintenance active wheelchair, which is, unfortunately, not usually the case for this type of equipment.
Total width | 79 cm
Total length | 109—119 cm (in relation to the position of the bumper)
Weight including battery | 75 kg
Seat width | 36-50 cm
Seat depth | 34-50 cm
Backrest height | 33-45 cm
Engines | 2 x 350W 24V
DC Battery | 1 x 24V 62Ah
Lithium   Driving wheels | 2 x 3.50—10
Pivoting wheels | 8 x 100 mm
Cooling system | Combined liquid-air combination